Library
A library is not a luxury but one of the necessities of life.
The Pellston Library offers a quiet place to study, relax, work or simply escape in a good book inside or out in the new garden.
The Village of Pellston's Library is a branch of the Mackinaw Area Public Library. We are located in the Village Hall on Milton Street. One block west of US 31, between Main Street and Mill Street. The Libray is open Monday and Tuesdays from 11am to 4pm. And on Thursdays from 2 to 7pm
The Friends of the Pellston Library is a volunteer organization. Our purpose is to help The Mackinaw Area Public Library (MAPL) promote their events and programs as well as support and raise funds to sponsor events, programs and projects specifically for the Pellston community. Our continued THANKS to the Village of Pellston for the opportunity to connect with our community on their website.
Since the start of the Friends of the Pellston Library (FOPL), last year, we co-sponsored a concert series with the Blissfest Music Organization. We partnered with the Little Travese Conservancy for several outdoor programs and walks. There was an Intro to Pickleball class at Pioneer Park. A Local Author Storytelling Program. Mike Fornes spoke on "Things that Happened on the Bridge". We had a very successful book sale. We recieved a grant from The Harbor Petoskey Community Foundation for the construction of a garden in the area to the south of the Library. We hosted a Free Family Fun Night and Tree Lighting at the Libray in December. We are busy planning our events and programs for this year. If you would like to volunteer or have questions about our group, please email Mary Rapin at cmprapin@gmail.com with "LIBRARY" as the subject.
We have also been able to get shelves built for the Book Storage Room. Thank you to Mr. Armantrout and his woodworking class for bulilding and installing them. Thank you to Home Depot for donating the materials.
Signs are being designed and created to designate the location of the different sections and types of books.
In partnership with the MAPL we started a Seed Library. A Seed Library is a collection of seeds for flowers or vegetables that is made possible from the donations of seeds and volunteers who sort, catalogue and package seeds. The Pellston Library's Seed Library is open to residents of Pellston and its card holders. You do not need a library card to check out the seeds, but you will need to sign them out with the Librarian.
FOPL will also be promoting the Summer Reading Program that the MAPL is making available to all of their branches. The Program will start in June. Check back oftern for more news about your library.
Our First Event of the year Garen Party was on May 5th, in support of our SEED LIBRARY.
It was a wonderful evening. We had door prizes, a drawing for gardening supplies, pop corn popping, children painting and decorating flower pots, the school was selling vegetable plants compost was available to take hme, and former Pellston Science teacher Maria Afflather, and now owner of Village Grown Flowers in Cross Village, talked about container gardening. Also on hand were landscapers Joseph VanLoozen and Aaron Kaiser to talk and answer questions about the new Library Garden.
Free seeds from the NEW Seed Library were and still are available inside the Library. You will not need a library card to get seeds but you will have to sign them out. This will aid us in keeping an inventory of the seeds, so we can restock as necessary. If you do not see a seed packet for something you wish to grow, you can ask Tammy about requesting it form the other MAPL Seed Libraries.
Thank you to our fabulous Librarian, Tammy, for creating a book display of books to learn more about container gardening.
Thank you to Kilwins for the donation of the containers. The compost is from the Emmet County Recycling center.
Thank you to Maria Affhalter for being so generous with her time and doing the demonstration talk. Check out the website for Village Grown Flowers at villagegrowncv.com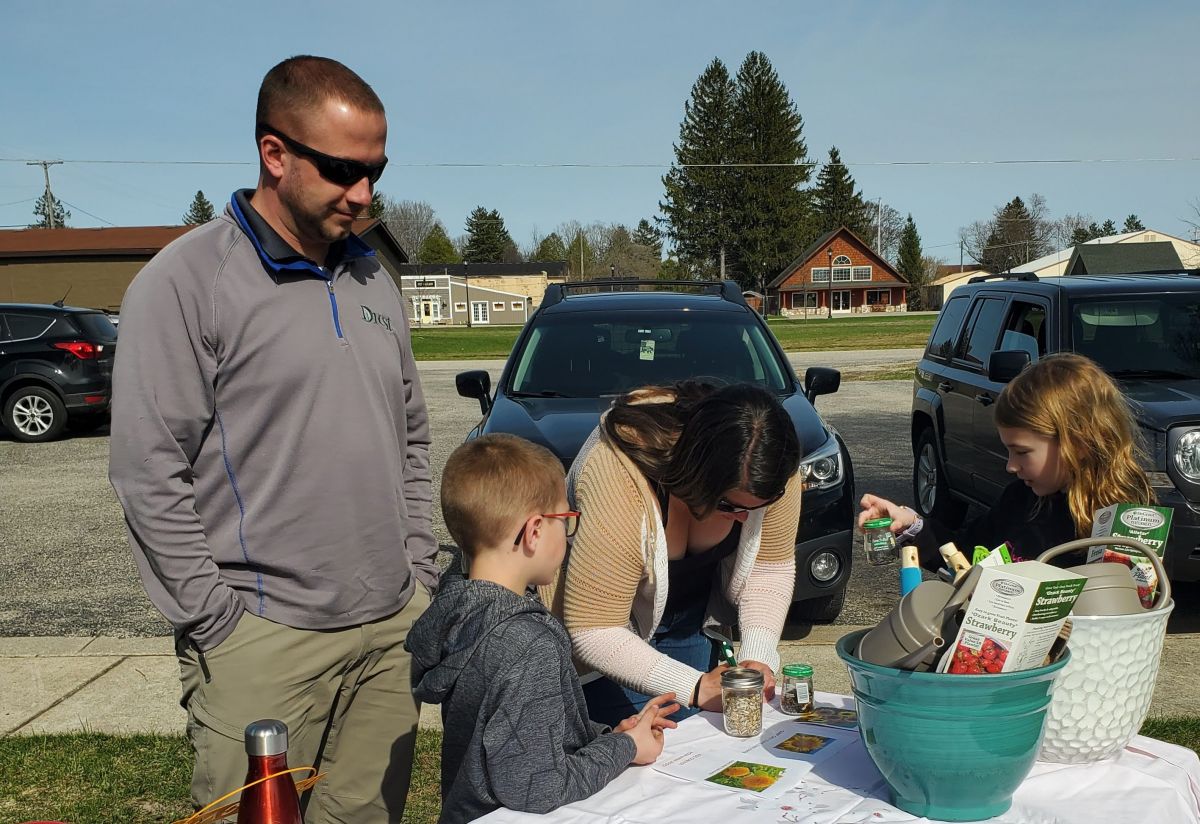 Signing up for door prizes

Children's Craft Area all set up and ready to go.
Frequently Asked Questions
How long does it take to get a library card?
No time at all. Our librarian will be able to supply you with a new library card the same day you apply.
When is the library open?
The Pellston Library is open on Mondays and Tuesdays 11 am - 4 pm;  Thursdays from 2 pm to 7 pm. 
What programming do you offer?
The Friends of the Pellston Library and the main branch of the Mackinaw Area Library offer events, programs and speakers throughout the year. We post detailed description of these events, programs and speakers on this page. Everything is also posted on the Calender of Events page on the Village's website. Scroll to the top of this page and selct the Calendar to check out other activities within the Village.
For more information on the Mackinaw Public Library and the other branches please go to www.mackinawareapl.michlibrary.org. Or check them out on Facebook  @ https://www.facebook.com/MackinawBlissPellston/
Contact Info